If you want to keep yourself healthy, it is certainly a matter of course for you to keep your home clean and germ-free by regular cleaning and disinfection. Surfaces and handles in particular are thoroughly cleaned in the process. However, at the latest since the Corona pandemic, we have all become aware of the important role played by the viral load in the air we breathe.
When coughing and sneezing, droplets that may contain viruses are initially thrown into the air. Large, heavy drops sink quite quickly to the ground or objects. Smaller ones, however, can remain suspended in the air for several hours or even days. Therefore, you cannot clean them yourself, but must resort to technical aids. For decades, a solution has proven itself for this purpose, which is also used, for example, in the medical field, with which you can keep your room air clean and thus keep yourself a bit healthier: UV-C light!
The most important
at a glance
UV light is invisible to the human eye
UV light eliminates bacteria and viruses
Air purification by UV-C light with multifunctional air conditioner
Also suitable for large rooms up to 60 m²
How does air purification with UV-C light work?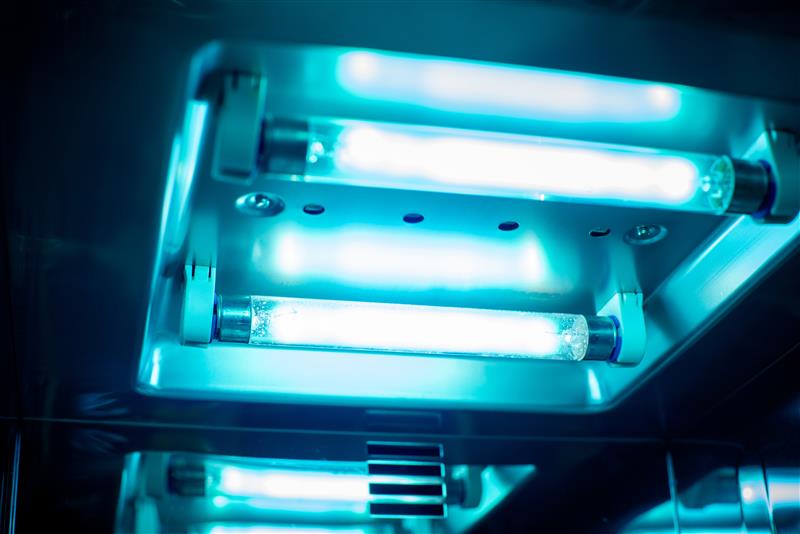 Ultraviolet light is not visible to the human eye. You may know that this light is also used in solariums. However, these are the longer types of radiation, UV-A and UV-B. The shortest wavelength, UV-C radiation, on the other hand, is the light that is used to disinfect water, objects and the air. Living beings should not be permanently exposed to this light, as it can accelerate skin aging.
However, when installed in air-conditioning systems, the air is completely safely directed past the UV-C lamps inside the unit, thus posing no danger to anyone present in the room.
It is an extremely effective method to kill various pathogens such as viruses, bacteria and molds: the UV lamp can kill up to 99.9 % of the bacteria and viruses it contains by destroying the molecular components of the microorganisms. Within seconds, they become inactive. This type of disinfection has the advantage of being without the use of dangerous chemical substances!
Air conditioners Malpensa and Elba Mini purify air with UV technology!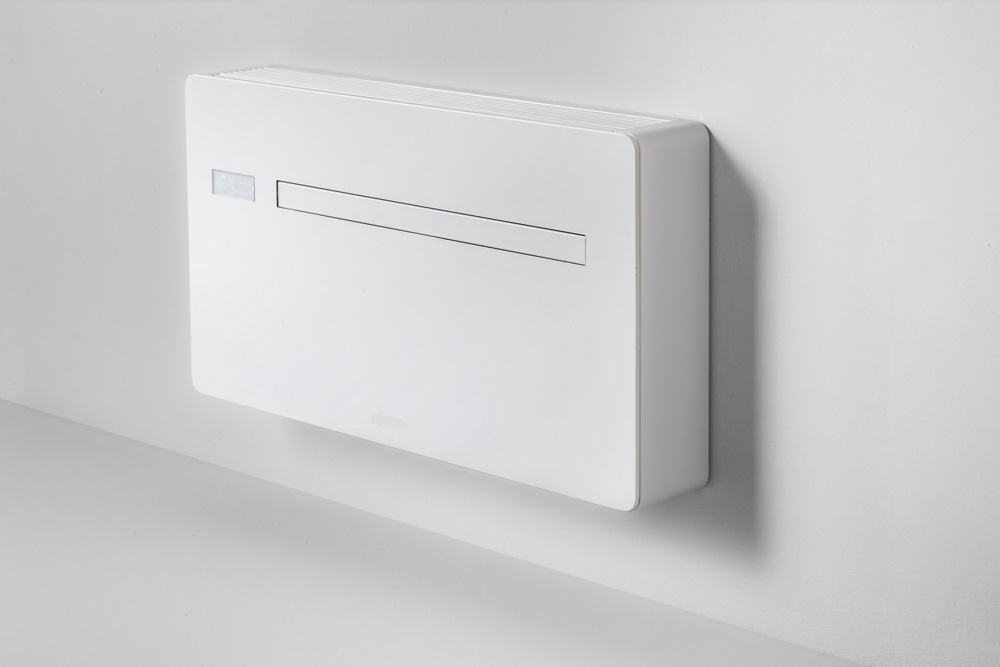 If you would like to ensure hygienically clean air at your home or in commercial premises, we recommend our Wall air conditioner Malpensa with integrated UV-C lamp as well as our Air conditioner Elba Mini with integrated UV-C lamp. The multifunctional air conditioners can of course be used for cooling and heating, have a dehumidification function and at the same time provide effective killing of pathogens in the room air by means of UV disinfection. In addition to installation in private rooms for their own health, air conditioning with UV lamp is also useful in the hotel industry to neutralize aerosols of changing hotel guests. Moreover, Malpensa and Elba Mini air conditioners are suitable for rooms of 30 m² - 60 m², which makes the product interesting also for classrooms, smaller catering establishments, as well as offices or meeting rooms.
As usual with our wall air conditioners, the Malpensa and Elba Mini models are powerful yet extremely quiet (27 - 43 decibels). The installation is simple and fast, and most importantly, it is done without an outdoor unit on your facade. You can basically choose the mounting height yourself. With their white finish and simple monobloc design, Malpensa and Elba Mini air conditioners look chic and unobtrusive.